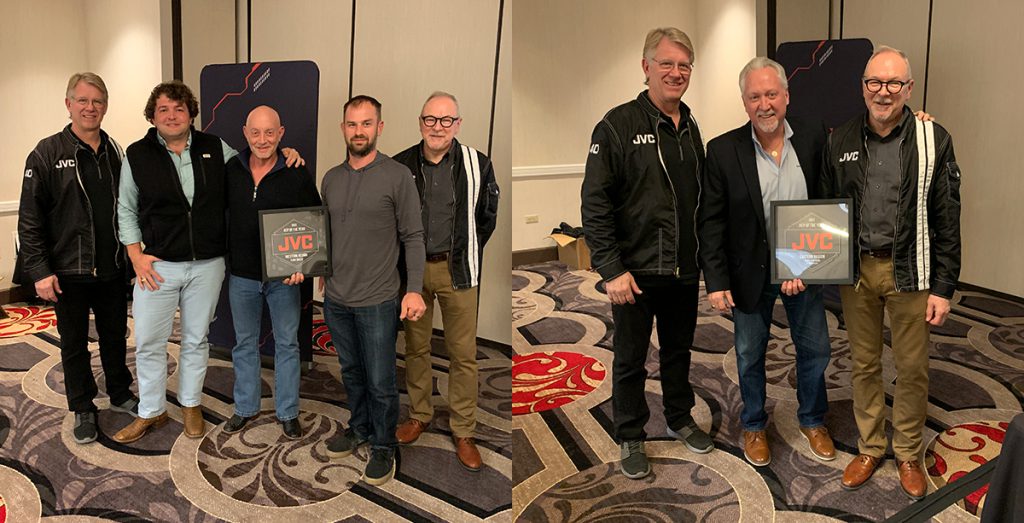 LONG BEACH, CALIF., February 4th, 2023 JVC Mobile Entertainment, manufacturer of class-leading aftermarket car, marine, and motorsports products, announced its sales rep firm of the year awards during their annual sales rep meeting held on Thursday, 2-2 at the Paris Hotel and Convention Center in Las Vegas, NV. Earning the top sales rep firm for the Western territory was Team Sales, with Trent Partners commanding the Eastern territory.
"Team Sales & Marketing (based in Katy, TX), brings their A-Game every day," said Ron Trout, JVC Director of Sales.  "They have a plan to be successful and work this plan. They consistently focus on effective communication, both upstream and downstream."
"Trent Partners & Associates (based in Rockville Centre, NY), has an all-hands-on-deck approach," said Steve Cote, JVC Eastern Regional Sales Manager. "Everyone in the organization works to make JVC successful in the Metro NY market. They are engaged with our customers and help them meet their objectives with JVC, every day."
"JVC takes pride in the service and support given to all of its dealers by its nationwide network of trusted sales rep firm's professionals," added Trout. "We sincerely appreciate the efforts of all and look forward to a bright and productive year ahead!"
For more information on JVC Mobile Entertainment, visit http://www.us.jvc.com/car.
About JVCKENWOOD USA Corporation
JVCKENWOOD USA Corporation is a wholly owned subsidiary of JVCKENWOOD Corporation and is a leading developer of car entertainment products for the consumer market, two-way radio communications systems for public safety, private industry and amateur users, and video equipment for the broadcast and professional markets. For detailed information, call JVCKENWOOD USA at 1-800-252-5722 or visit us at http://us.jvckenwood.com, www.kenwood.com/usa and www.us.jvc.com/car.